About Mad Folk
Who We Are
Madison Folk Music Society ("Mad Folk") is a non-profit society dedicated to fostering folk/acoustic music in the greater Madison, Wisconsin area. Revenues are derived solely from memberships and concert ticketsales, plus special gifts from members and others.
What We Do
Regular Concert Series: We present 6 to 10 concerts per year from September through May, featuring some of folk music's finest national touring acts. Events are held at a variety of Madison area venues.
Area Festivals & Special Events: Mad Folk often has stages at events such as the WillyStreet Fair and Maxwell Street Days, where a select mix of national and local artistsare invited to perform.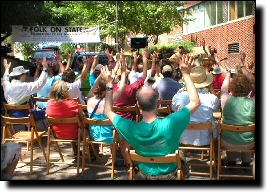 Summer Concerts: Free outdoor concerts and other special concerts are offered occasionally during summer months.
Summer Sings: Sing-along nights for families hosted by a great song leader are held on selected Friday nights during the summer, usually at Blue Mounds State Park.
Newsletter: Mad Folk News is issued monthly to members by U.S. mail and includes the ever popular "Refrigerator Cover," a schedule of folk music and dance events, plus the entertaining "Whither Zither" column authored by Peter Berryman. Free with memberhip!
Scholarship Program: Love folk music and always wanted to learn to play/sing yourself? This program might be for you. Awardees are given funds to cover music lessons in somearea of folk music - voice, guitar, mandolin, fiddle, etc. [More...]
Leadership
Board 0f Directors - Mad Folk is run by an elected Board, entirely on a volunteer basis. Elections are held at the annual meeting of the membership, usually in the fall. Nominations from members are very welcome! Copies of Mad Folk's Articles of Incorporation and Bylaws are available to members on request -- just contact Mad Folk.
Committees - Current standing committees including the Concert Committee and the Scholarship Committee.
Standing Volunteer Positions - While not part of committees currently, several standing duty positions are handled by volunteers including Webmaster/Internet Promotion, Membership Chair, and Treasury.
Financial Matters
Mad Folk accounting records are maintained by a volunteer treasurer (elected board position). Reports are shared with the membership annually and are available to members at any time on request.
Bookings Policies
MUSICIANS: If you are looking for information about being considered as a performer for one of our shows, please click here